From Brattleboro, take State Route 30 north.
After 7 or 8 miles, when you see the turnoff for Maple Valley Ski Are, continue north on SR-30 for another 1.5 miles, until you reach the Williamsville Road turnoff on the left. The turnoff is just before a large bridge over Rock River. Pull over and park on the east side of SR-30 just before the bridge. Cross on foot to the west side of SR-30, then walk up Williamsville Road a short distance until you see Station Road on the right that looks more like someone's driveway (there are a few small camps at the end of this very short road.) Take the trail that starts at the smallest and most broken down cabin and leads you alongside the river.
The first public pool you reach is the largest, and users are usually clothed. Nice smooth sandy beach with 8 ft high rock ledge on other side.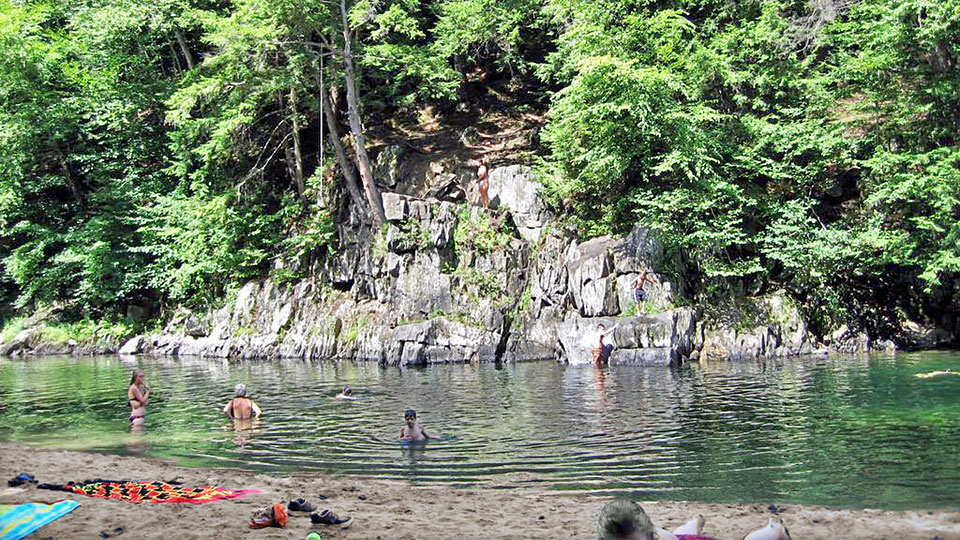 As you walk further upstream, you'll come to a sign on a tree, "CLOTHING OPTIONAL FROM HERE". Soon you come to the second pool. Getting to the sandy beach at this one requires crossing the river, river is shallow near the edge of the pool. The narrow trail here turns into a wide one soon after this.
Further upstream, where the wide trail appears to end, is a rocky and sandy beach area with another pool deep enough for swimming.
From here you can see a wooden staircase built into a steep bank. Going up the stairs puts you on the short trail to the all-male gay section. Once you start seeing guys hanging out on the other side of the river, look for a shallow spot to cross the river to the sunny side. There is some sandy beach to stretch out on along the otherwise mostly rocky shoreline. (Altogether, it's about a 20 minute hike from the parking lot to this last section.)
Note: Tropical storm Irene badly washed out the trail in a few spots. Use a backpack to carry anything in, you will need both hands to hold onto rock or rope there to make it over those rough spots.